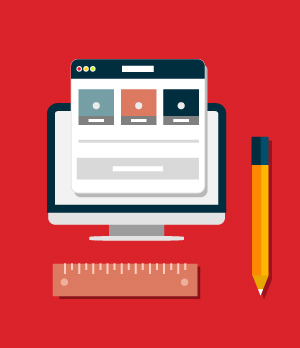 What is a CMS, or a Content Management System? In short, a Content Management System is web-based or OS based application that provides easy-to-edit templates that reduce time spent on website development and maintenance. This is a life saver for bloggers and business owners who aren't comfortable or familiar with programming languages.
Content Management Systems allow individuals to access all pages of their website on one web or application interface, and gives them ability to control the creation and modification of content without knowing HTML. Another benefit of using a Content Management System is the capability to customize the site's theme to fit your brand's style and colors. Users are in complete control of their design choices.

Although CMS' are designed to make website building easier, it is strongly recommended to consult with a design firm beforehand. Like everything else in the world, Content Management Systems are not free. Choosing to use a CMS over hiring a website design company will eliminate some of your development fees and updates, but not correctly setting up your CMS will cause ongoing maintenance (and in turn), heavy maintenance fees. FireDrum web designers can help with the initial set up of your website, making sure formatting and page settings match your brand. This will save you time and money in the long run!
Getting Started (Domain and Hosting)
Do you know where your website will be hosted, and where you'll be purchasing your domain? Before exploring your options, it's helpful to understand the difference between the two.
Domain Name
A domain, or URL, is an online address that directs people to your website. For these directions to be viable, your domain must be associated with a hosting service (that domain does not need to be purchased from your hosting service.) Domains must be renewed yearly.
Hosting Service
A hosting service is an account that stores all of your websites' information (including content, images, backups, etc), and secures your content so it is accessible and viewable on the internet. Hosting services are typically billed monthly or annually.
Domain name and hosting go hand in hand when it comes to setting up your website. When searching for the right host, you need to ask yourself the following questions:
Will this hosting company understand my needs?
 Does this company have live, professional support?
 Does this host allow me to add more than one domain add-on?
 Is the price fair when I first sign up and when renewal comes around?
 What type of upgrade options do they offer?
 Upon investigation, are they as reliable as they say they are?
 How much traffic can they handle?
What are businesses (similar to my industry), saying about this company?
 Do they have a portfolio of websites they host? If so, do those websites seem to run correctly? Is uptime as short as they guarantee?
Is their control panel easy to navigate?
What other features do they offer?
| | |
| --- | --- |
| | We have hosting and domain management options for every type of business. Learn more about our pricing options by contacting our live support agents or by scheduling your free consultation with the experts. |
WordPress.org vs Other Content Management Systems
When choosing a Content Management System, it's important to research the different features and tools of each configuration. Every system provides unique elements to make your site more usable, more responsive and more engaging.
We personally recommend WordPress for business owners because of the flexibility and ease of use. Believe it or not, most WordPress users are neither programmers nor professional designers! The majority of their users have no coding or prior website experience. With the vast WordPress template library and thousands of customizable plug-ins, you will be able to build a website completely in-line with your brand (without having to actually build the website).
Notable WordPress Features and Facts:
 WordPress.org is Free! (Free to download, free to install, free to use and free to edit).
 WordPress comes with several pre-packaged themes
 WordPress gives you the ability to upload customized templates altered to fit your brand (view our Website Gallery)
 WordPress is mobile responsive
 WordPress is SEO friendly (with their high-quality code, SEO semantic mark-up is produced)
 WordPress updates are easy to manage
 WordPress is safe and secure, and constantly improving
WordPress hosts over 26% of all websites in the world (with those numbers, we consider them pretty trustworthy!)
How can we help?
Tell us about your business, your goals and what you hope to achieve with your site. We can use our design and coding expertise to set-up the basics and backend of your website so you can focus on what you do best. Learn more about our
web design services
or schedule your
free consultation
, today.
Managing SEO Content
Websites are, and should always be, constantly updated with new content. Publishing new, quality content on a weekly basis not only increases customer engagement and retention, but your overall ranking on Google. With our wide arrange of tools and extensive experience, we are able to improve the searchability and traffic of your website through the content we create. Talk to our SEO experts, today, to learn about our content management services.
Closing Note
While you start evaluating your hosting, CMS, and content management options, we encourage that you reach out to us if you have any questions or concerns. We want to make sure your online business succeeds with as little stress as possible.
---
Need some inspiration before starting to build your new website? View our website gallery for ideas and share your thoughts with us!