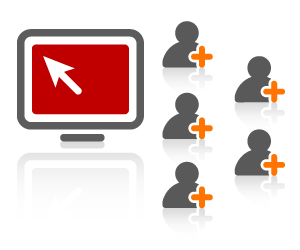 For a continued and healthy email marketing strategy, companies must always look to improve their email lists. Sometimes getting quality emails can seem like a tough task but if you already have a great website it can be a lot easier than you might think. Getting email address signups from your website is a fantastic source of quality soft leads because they have already read up on your company and are still interested. Below are some specific ways to use utilize your website to gain email signups for your email marketing campaigns.
Footer Signup
The footer signup form is the most commonly used method of collecting emails addresses on a website. It is very simple to install and straightforward. If you are using the FireDrum email marketing platform and have a Wordpress site this can be accomplished by installing our Wordpress plugin and following these steps here. This can be marginally effective since it shows up on every page and is always in front of your users. The downside to this method is you're limited on the amount of information that can be collected and typically the only selling point is one line above the form.
A great use of this sign up method can be seen on our client KidStop's website here, http://kidstoptoys.com/. We would suggest using this method just because of the simplicity and ease of use to install a footer signup. Although it might not get all the information you need it is still a good collection tool to have on your website.
Lightbox Popup on the Homepage or Other Page
If you want your email sign up to be front and center for users, setting up a popup is one of the most effective strategies. If done correctly it will lightbox on your site and not be affected by ad blockers since it is not opening up a new tab. Many sites are starting to use this kind of popup where the site grays out and you see a box front and center that asks you to perform some kind of action. This method offers a lot of flexibility since you can program it to have a variety of different elements in a box. With the correct programming you can have a photo, call to action, text, and a sign up form within this lightbox. Depending on your marketing strategy you can interchange these different parts to complete your business goals.
A simple example of this can be seen on the Lense On! website here, http://lenseon.com/. With this example there is an image that pops up on the homepage after 3 seconds that links to the newsletter signup form. If you need help installing a popup similar to this one or with more functionality feel free to contact us and we will be sure to help.
Sign Up Link on Blog Posts
Another effective way of generating email signups is to put a link to the form at the bottom of blog posts. This can be very beneficial since the user has read your content and might want to get notified of similar content when it becomes available. Be sure to have your link or button spell out some sort of call to action to get users to click. This call to action can be as simple as, "Like this article? Sign up for our newsletter to receive more". Now this is a very generic example and it should be tailored to your business/blog to gain the best results.
For any of these above methods you will want to make sure that you offer the user some sort of incentive if possible. For an e-commerce based site try offering a coupon if someone signs up. This coupon can be sent out in the auto responder email to the user so there is minimal action needed on your end. For a business that uses the website to generate leads from contact forms or calls try offering industry insights to entice users. This can show possible clients that your business is an expert in the field and help them gain trust.
Send Social Traffic To Sign Up Page
While social media does not reside on your website it is a very important tool in generating traffic to it. A misconception about social media is that if you have many people on social channels they will just find your site, this could not be more false. Many businesses make the mistake of just posting content that lives and stays on social media when the goal should be to bring traffic back to your site. If you're planning on posting a special promotion or deal make sure people need to click on a link to your website to see/claim that special. This traffic to your site is very important to generating email signups because these are the users that are very interested in your company since they took the action to learn more. You should never hinder a path for people to go to your site and ultimately become a customer. So next time you post, try putting in a link to your site or newsletter sign up page to drive more users to become part of your email list.
There are several other ways to gain email signups using your website so try different approaches and put yourself in the shoes of your users. Just like email campaigns, A/B tests should be utilized to find the best possible return. If you have any questions about generating email sign ups through your website please feel free to contact us and we will assist you in finding the best solution.